Welcome to ToontasticToon's News Issue: 2! The next issue is due on 5/15/11.
Sellbot Field Offfices Shirts!
Toontown released Sellbot Field Office Shirts for a limited time! To get this shirt type in "
GC SBFO
" in opnions in your sticker book.
A freckles is spotted in the Sellbot VP Lobby
Well, yesterday I saw Freckles (probably a faker but still), in the Sellbot vp lobby! Freckles was saying "
I AM A ANTIS MEMBER DO GIVE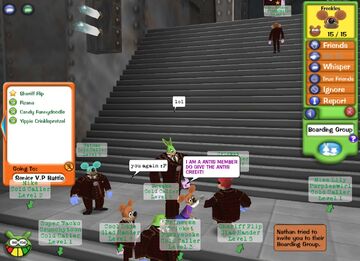 THE ANTIS CREDIT
!". Freckles didn't even have a Cog Suit on!
Ad blocker interference detected!
Wikia is a free-to-use site that makes money from advertising. We have a modified experience for viewers using ad blockers

Wikia is not accessible if you've made further modifications. Remove the custom ad blocker rule(s) and the page will load as expected.