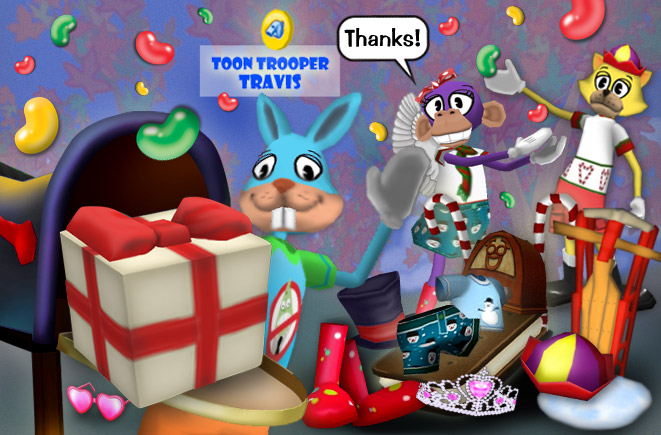 Toon Troopers kick off the winter holidays with a '"Thanks For Giving" event!  Troopers Teo, Tabitha, Tiberius, Travis, Taffy, and Tycho will be thanking Toons with jumbles of jellybeans at these times:
Friday, November 30:  12pm - 1pm (PST)
Saturday, December 1:  3pm - 4pm (PST)
Sunday, December 2:  3pm - 4pm (PST)
Toon Troopers will be throwing out thankful beans in Playgrounds throughout these goofy "G"  Districts:
Giggly Bay, Giggly Hills, Gigglyfield, Goofy Valley, Giggly Grove, Giggly Point, Gigglyham, and  Goofyport.
HINT: It's easy to spot a Toon Trooper with the whistle symbol over their heads.
The Toon Troopers ask that you then give thanks yourself – by using your extra beans to buy Toontastic gifts for your Toon friends! 
Just open your Cattlelog and click the "BUY GIFTS" button.  You'll make your friends' holidays especially sweet... and YOU will feel Toontastic too. Thanks for Giving, Toons!
Ad blocker interference detected!
Wikia is a free-to-use site that makes money from advertising. We have a modified experience for viewers using ad blockers

Wikia is not accessible if you've made further modifications. Remove the custom ad blocker rule(s) and the page will load as expected.