Get ready…  Toon Troopers are crashing as many Holiday Parties as they can this weekend –  with jolly jellybean gifts for Toons!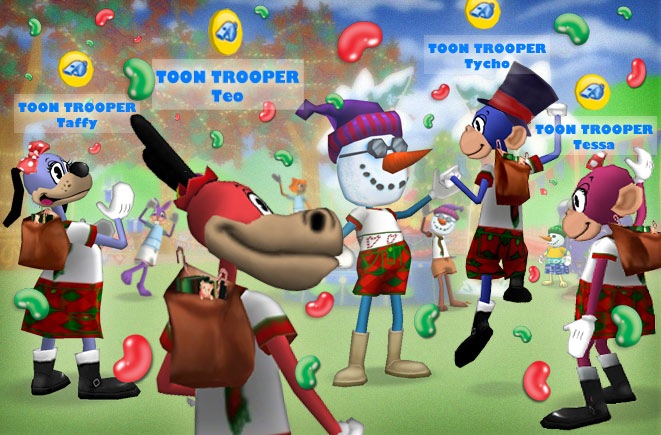 Troopers TYCHO, TAFFY, TESSA, TRAVIS and TEO play party elves in public Parties  this Friday, Saturday and Sunday, December 21 - 23! 
Those cheerful Toon Troopers will be gifting jolly jellybeans, so host your own Winter-themed Party to celebrate the holidays!

HINT:  Look for the Toon Troopers in Parties between 12pm - 1pm (PST) this Friday,  and between 3pm - 4pm (PST) on both Saturday and Sunday.
It's easy to spot a Toon Trooper with the whistle symbol over their heads - and the jellybeans from their gift bags! Make your Toon friends' Winter Holiday the happiest ever, by using your extra beans to send them Toontastic gifts! Just open your Cattlelog and click the "BUY GIFTS" button.
'Tis the season, Toons!
Ad blocker interference detected!
Wikia is a free-to-use site that makes money from advertising. We have a modified experience for viewers using ad blockers

Wikia is not accessible if you've made further modifications. Remove the custom ad blocker rule(s) and the page will load as expected.