The Toon Troopers had a blast with Toons in their Silly Summer Parties, and they want to share a special gift to help remember all the wacky fun: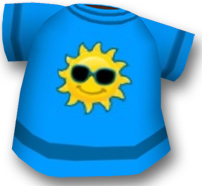 The Silly Summer shirt!
How do you get this Toontastic new shirt for your Toon? The Troopers cooked up a secret summer code you can use in Toontown to receive the shirt!
Where is the secret code? Check out today's new issue of Toon News… For the Amused! inside Toontown.
Don't miss the "Talk of the Town" section for all details - and enjoy!
Ad blocker interference detected!
Wikia is a free-to-use site that makes money from advertising. We have a modified experience for viewers using ad blockers

Wikia is not accessible if you've made further modifications. Remove the custom ad blocker rule(s) and the page will load as expected.