Toon Troopers celebrate the silliness of summer by hosting Silly Summer Parties for Toons this weekend!
This Friday, Saturday, and Sunday join in on all the wacky fun by visiting a Party Gate, and looking up a public Toon Trooper Party at these times:
Friday, July 27: 11am - 12pm (PST)
Saturday, July 28: 3pm - 4pm (PST)
Sunday, July 29: 3pm - 4pm (PST)
Look for public Parties hosted by Toon Troopers Tabitha, Taffy, Terry, Tycho, Tiberius,Tor, Tiffany, Tatum, Toby... and of course, Teo!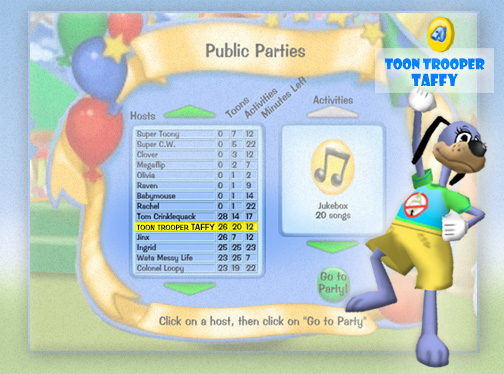 Play all your favorite Party games, enjoy the wacky decorations - and since your Toontastic hosts are the Toon Troopers, expect jumbles of free jellybeans! Get those beans, and host a Toontastic summer Party of your your own. Toons of the World, prepare to Party!
Ad blocker interference detected!
Wikia is a free-to-use site that makes money from advertising. We have a modified experience for viewers using ad blockers

Wikia is not accessible if you've made further modifications. Remove the custom ad blocker rule(s) and the page will load as expected.