OMG, Yesterday (12-10-10), I spotted Freckles in the district, Toon Valley! Everybody was crowding in on him, one toon even said Jingle Bells, Freckles Smells! LOL! --ToontasticToon21
UPDATE: 12-12-10: I spotted him again but in a different district, But he was not doing a glitch. I think he might be the same one from which I saw the few days before. So be careful!
Note: I am reposting this blog post because I forgot my password on the ToontasticToon21 account, so everybody comment what they said on the original blog post.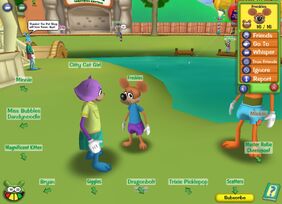 Ad blocker interference detected!
Wikia is a free-to-use site that makes money from advertising. We have a modified experience for viewers using ad blockers

Wikia is not accessible if you've made further modifications. Remove the custom ad blocker rule(s) and the page will load as expected.