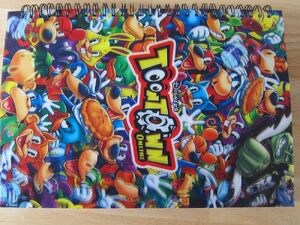 I was cleaning out my room today and ran into this notebook. I remember getting it a few years back. I don't know when or why but I wanted to put something about it on the wiki.
Then I ran into a problem. I can't find any information about this notebook anywhere that I search! Has anyone else received this or have any information about it? Please let me know. I don't think I ever won a contest because I never entered one.
Thank you.
Ad blocker interference detected!
Wikia is a free-to-use site that makes money from advertising. We have a modified experience for viewers using ad blockers

Wikia is not accessible if you've made further modifications. Remove the custom ad blocker rule(s) and the page will load as expected.