Clarabelle has kept us guessing, and the wait is over – her brand new Spring accessories are here! Aaaand the mystery accessories are… oxford shoes, bobby hat, bear pet pack, anti-Cog control hat, carnivale mask, and safari hat!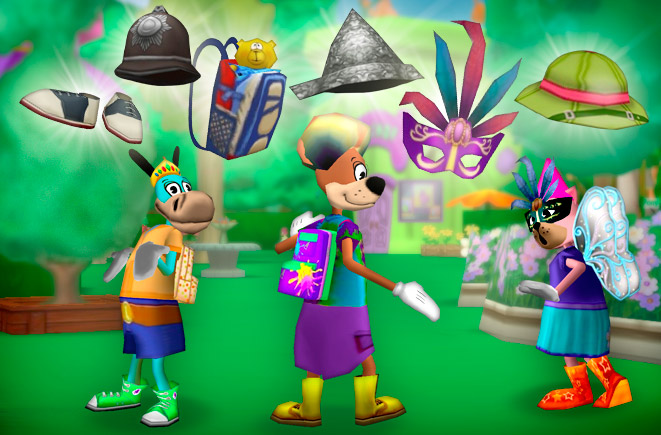 See Lord Lowden Clear's special report in the new Toon News…For The Amused – out today!
Those six accessories are only the beginning…
Zany hats top the list (and Toons' heads!) with a pink princess hat for girls, and a royal crown for boys! Plus a firefighter helmet, sailor hat, chef hat, two new baseball caps, and a fez!
Flutter into your next Toon Party wearing flitterific new pixie wings! Dazzle your fellow party-goers in the super-wacky rainbow wig, and fancy carnivale masks in blue, aqua, or purple.
Spring forward in new green tennis shoes, orange star fashion boots, yellow Toon boots, and blue rain boots. Toontown has never looked so colorful!
Give Clarabelle a call today, and fill your trunk with a rainbow of new accessories for Spring!
Ad blocker interference detected!
Wikia is a free-to-use site that makes money from advertising. We have a modified experience for viewers using ad blockers

Wikia is not accessible if you've made further modifications. Remove the custom ad blocker rule(s) and the page will load as expected.