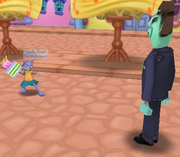 (plz note that some of my blog pages maybe unfinished ik that caused confusion and i am sorry ty and good day.)
Here are the throw gags showing only max damage.
Cupcake:6 damage Organic:7
Fruit Pie Slice 10 damage organic:11
Cream pie slice: 17 damage 18 organic
Whole fruit pie : 27 organic 29
Whole cream pie 40 44 organic
B-day cake 100 110 organic
wedding cake 120organic 132
When u get throw i suggest u train with throw only first if u dont want to thats okay.(try getting a water gun)
When u get the slice cream pie and max it u may want to get a couple friends and try to get a bldg in ddock.
When your whole fruit pie is 25 damage i suggest training in the sbhq courtyard.
You may think im crazy for saying that, but u will find it works very good.
When you succsessfully get your whole cream pie u might wanna start training squirt now alot.
Now a b-day cake is the hardest throw gag to get.( your cream pie only gives 5 exp points from 2000 to 6000 b-day cake gives you 6 exp points from 6000 to 10000).
to train b-day cake many ppl say its very easy training it in the bldgs which i recommend.
Now when your b-day cake gets pretty strong (around 67 to 74) try training with a friend in an invasion cbhq.
When you finally get your wedding cake you will be pretty proud if its your first time.
For those who have a organic wedding cake. you can take out a row of lvl 12 cogs when they r lured and with another throw gag. which is very useful.
Ad blocker interference detected!
Wikia is a free-to-use site that makes money from advertising. We have a modified experience for viewers using ad blockers

Wikia is not accessible if you've made further modifications. Remove the custom ad blocker rule(s) and the page will load as expected.