Here Are the list of sound gags and damages: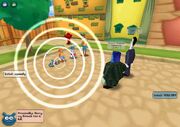 Bike horn: 3 organic 4
Whistle : 7 organic: 8
Bugle: 11 organic 12
Aoogah: 16 organic 18
Elephant trunk/horn: 21 organic 23 (FTW!)
Fog Horn: 50 organic 55
Opera Singer: 90 organic 99
Many People say sound is the easiest to train.
It was for me Because of a great Asset- the factory. But sound traning gets annoying when you get your elephant trunk.
When you first get sound youre maybe like why did it have to be the weakest. thats fine.
from 1 to 40 you can tell that training sound is gonna be tough. (not that tough)
Train in an inv or none (if you want a hard time) or do a bldg. it may not be such a good idea bc ppl dont like doing bldgs with low gag bldg trainers.
Once you get your whistle its 200 points (that means 160 points.) -_-. try doing higher lvl cogs with a friend (lvl 456) bc you probably have good throw and squirt once you have sound.(at least maxed lvl 4).
Now when you've finally gotten your bugle YOU Fine out you now need 1,000 precious points(800). Argh.
Now you might wanna start doing traing factory runs when your bugle does 10 damage. if not train with higher cogs like i said before.
Geez. When you've gotten your aoogah you may flip out when you see you now need 2,500 (1500)!
Now (this is the hard annoying- long part) i really suggest doing mad long factory training runs. of course its good to go in with at least 3 ppl with your sound lvl.
Phewwww.... When your trunk does 21 u can start doing bldgs.
NOW when you get your first fog horn you discover it does 25 at the beggining....We can work with that.
Keep doing factory long runs.(IT WORKS REALLY WELL.)
Rejoice when you get your opera singer and a job well done.
TIPS
1. Of course sound does the weakest but is very powerful when used with other sound gags.
2.Factory runs are great for training sound.
3. toons may refer to you as selfish if you only want to train YOUR gags so be careful.
4.(not really a tip =) stay tuned for my next entry. ty and goodbye.
Ad blocker interference detected!
Wikia is a free-to-use site that makes money from advertising. We have a modified experience for viewers using ad blockers

Wikia is not accessible if you've made further modifications. Remove the custom ad blocker rule(s) and the page will load as expected.