Issue 2
Close to adminship!
Hey everyone I am sure that after Brian oh I forgot now... But he might make me admin! I just needed to send him a message for the address! Yay or what!
Fail at Sellbot
Thats right everyone I failed at a sellbot vp! It was a epic failure though and it had epic music playing in the background and everything and I STILL HAD A EPIC FAILURE! -Sniff-
Jellyroll the cat!
What do you guys thiink of this new member called Jellyroll the cat! I think he is that one Sonic, JellyrollZillerwig and me saw at the ttc playground! His pic looks JUST LIKE HIM! I have a bad feeling abou this guy! He is a stalker!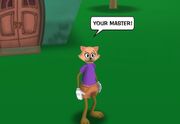 Mod Overload
Hi guys I dont know if anyone noticed but.... THERE IS WAY TO MANY MOD HACKERS ON PLAYGROUNDS! ONe time I saw a WHOLE BUNCH OF THEM GATHERED! Its scary beware everyone!
Daily Picture
Ad blocker interference detected!
Wikia is a free-to-use site that makes money from advertising. We have a modified experience for viewers using ad blockers

Wikia is not accessible if you've made further modifications. Remove the custom ad blocker rule(s) and the page will load as expected.