Hi everyone some people may not recognize me and some may but I used to come on this wiki a while ago but quit because my friends stopped playing and my membership ran out also....... But I am getting my membership back and am coming back on Toontown... And I will try to help out as good as I used to.....
Good News
I am back on Toontown and its wiki... Also I am getting a membership soon.
Bad News
I lost alot of friends on Toontown and its wiki while I was gone..... :'(
Random News
I finally figured out what Doctor Who is.
Weird News
My Dad ate a boiled bull frog.
Creepy News
There is a criminal in China who attacks you by sucking on your toes........
Ranndom Question of the day
Do you like bannanas?!!?!?
Picture of the day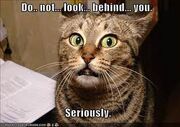 Ad blocker interference detected!
Wikia is a free-to-use site that makes money from advertising. We have a modified experience for viewers using ad blockers

Wikia is not accessible if you've made further modifications. Remove the custom ad blocker rule(s) and the page will load as expected.