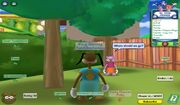 Im writing this to reassure anyone who is kinda or realy afraid of the teleport bots. They used to get you banned but they dont anymore my toon is living proof. Their just there to take people to places they wont keylog you they wont steal your info your absolutly fine dont be afraid of them its fine! Comment if you have any feed back!
Ad blocker interference detected!
Wikia is a free-to-use site that makes money from advertising. We have a modified experience for viewers using ad blockers

Wikia is not accessible if you've made further modifications. Remove the custom ad blocker rule(s) and the page will load as expected.