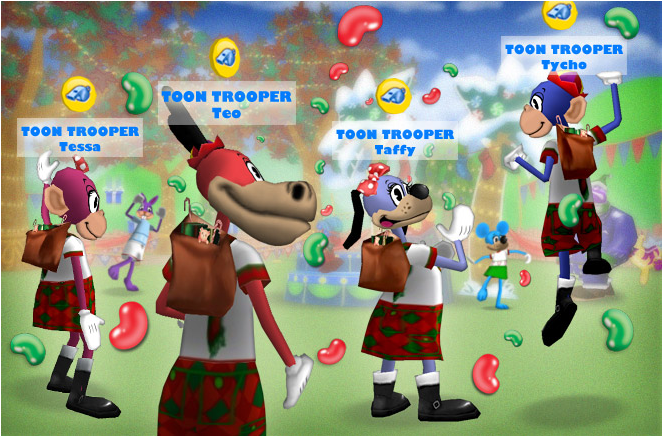 Toon Parties are decked out for the holidays with SnowDoodles, falling presents, candy trees, and cozy Cogs – can anything make them more festive?

The Toon Troopers think so! And they're going to crash as many Winter Holiday Parties as they can this week to prove it – with jellybean gifts for you!

Look for TEO, TAFFY, TESSA and TYCHO making surprise appearances in public Holiday Parties this Thursday and Friday, December 22-23! These Troopers will be handing out candy beans in all Districts, so host your own Winter Party to celebrate the holidays!

HINT: Be on the lookout for the Toon Troopers between 4pm - 5pm (PST) on Thursday, and between 11am - 12pm (PST) on Friday.

It's easy to spot a Toon Trooper with the whistle symbol over their heads - and the jellybeans from their hands!
Ad blocker interference detected!
Wikia is a free-to-use site that makes money from advertising. We have a modified experience for viewers using ad blockers

Wikia is not accessible if you've made further modifications. Remove the custom ad blocker rule(s) and the page will load as expected.