Clarabelle helps you start off the New Toon Year in style, with a big batch of shiny new Toon accessories!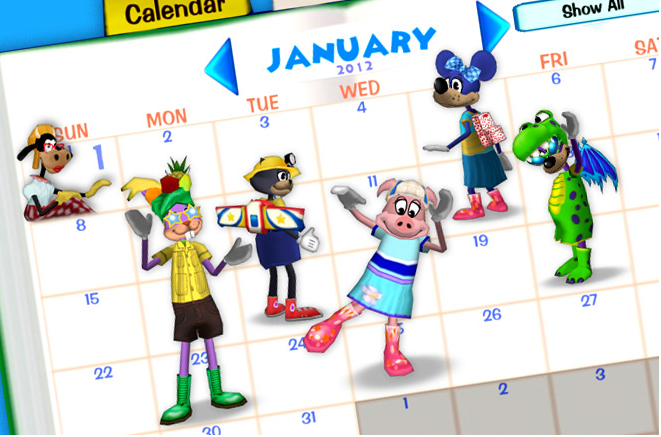 Be whatever kind of Toon you want this New Year with the miner hat, cop hat, or just keep warm with the fuzzy winter hat. And girl Toons can add another stylish bow to their collection with the blue-checker bow!

Keep your Toon Parties going by wearing the fancy feather hat, pink boingy hearts, or the kooky new samba hat! Just watch out for hungry monkey Toons while wearing that tasty topper…

Start thinking about ValenToon's Day now with pink star fashion boots, winter boots, tennis shoes, and hi top sneakers. If red's more your color, check out the red hi tops, sneakers, and fancy shoes.

If your Toon is looking to "stay green" this New Year, it's easy with green hi top sneakers and green star fashion boots. And those new motorcycle boots look Toontastic with a pompadour!

Backpacks come in all new shapes and colors this year – be the first with a blue color or red polk-a-dot backpack. Impress your Toon friends with awesome airplane wings – or scare them silly with the dreadful new dragon wings!

Remember: If you don't yet see these New Year accessories in your current Cattlelog – don't worry! These new accessories will appear in your next Cattlelog soon. Just make sure you buy the trunk first. If you already have a trunk, then you're all set!
Ad blocker interference detected!
Wikia is a free-to-use site that makes money from advertising. We have a modified experience for viewers using ad blockers

Wikia is not accessible if you've made further modifications. Remove the custom ad blocker rule(s) and the page will load as expected.