Jellybean Week wraps up sweetly with Toon Troopers bringing beans by the bunches this weekend!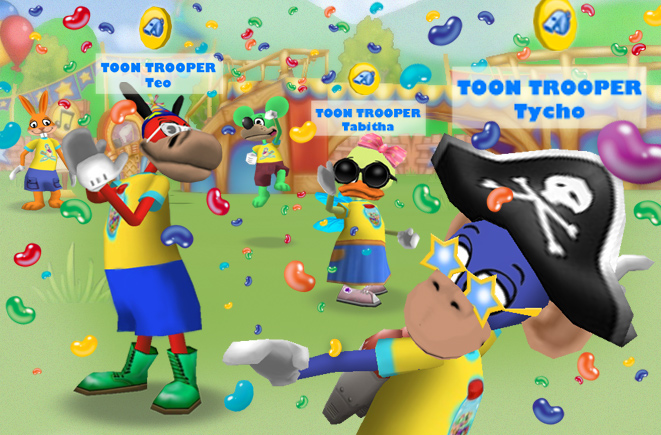 Troopers TYCHO, TABITHA, TRAVIS and of course TEO will be throwing out jellybeans a' plenty this Saturday and Sunday, June 15 – 16 at these times both days:
11am – 12pm and 4pm – 5pm (Toontown Time)

Keep a lookout for those Toon Troopers in Playgrounds and Toon Parties in Districts that start with the goofy letter "G":
Giggly Bay
Gigglyfield
Giggly Grove
Gigglyham
Giggly Hills
Goofy Valley
Giggly Point
Goofyport
While you're looking for Toon Troopers, check out the Grand Prix Weekend winners now listed in an all-new Toon News... For the Amused! The brand new racing outfit zooms into the winners' Toon mailboxes this weekend!
Ad blocker interference detected!
Wikia is a free-to-use site that makes money from advertising. We have a modified experience for viewers using ad blockers

Wikia is not accessible if you've made further modifications. Remove the custom ad blocker rule(s) and the page will load as expected.