You may be wondering how those Toon scientists could still be working on the Silly Meter after all this time… Well for one thing, they're easily distracted by, well, pretty much everything. But they also have dozens of side projects lurking in the corners of Loony Labs, and one of them just went haywire in Green Bean Jeans on Oak Street in Daisy Gardens!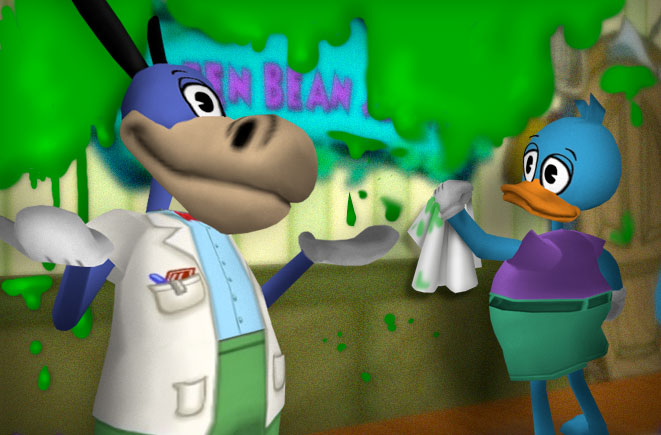 Poor Eugene worked through the night to get it all cleaned up. But what will this havoc mean for the rest of Toontown? It turns out Eugene didn't quite clean up ALL of that green gunk… There's still enough left for YOU!
All you have to do is swing by the shop and say one of the 'Green' SpeedChat phrases to Eugene. Then watch the green-ness grow! Don't worry, it will only last for a day – and if you want to do it again, you can go back as often as you like (until he really does get it all cleaned up.) And to complete the look, check out the new, super-green fashions in Clarabelle's Cattlelog! Your friends will be green with envy (or they'll just be green!)
Ad blocker interference detected!
Wikia is a free-to-use site that makes money from advertising. We have a modified experience for viewers using ad blockers

Wikia is not accessible if you've made further modifications. Remove the custom ad blocker rule(s) and the page will load as expected.