Hey Toons! As some of you have seen pictures of those Gag Icons, I just want to make it spread out to the entire wiki: YOU CAN USE THOSE GAG ICONS FOR YOUR HOMEPAGE! Some of the userpages I've seen look like this:
| | |
| --- | --- |
| Gag Track | Gags |
| Lure | Hypno Goggles |
| ... | ... |
Or just simple:
Lure: Hypno Goggles
...: ...
Want to spruce up your Userpage? Add these Icons!!!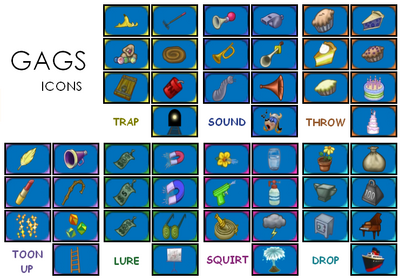 Just save the picture(or Copy), Edit it, and Add to your Userpage!
And now if you look at this:
Lure


'I used fullscreen, which is about '87x60px.
The Icons also can be found somewhere around the Gallery. You can still edit this picture if you like.
I will probably start making Cog Suit Icons, as soon as my recently fixed computer is... well... fixed again. Apparently, when it came back, I had my Hard Drive removed, so I'm empty and cannot update my Toontown. :'(
I will UPDATE when the time comes. As for now, ENJOY!
Ad blocker interference detected!
Wikia is a free-to-use site that makes money from advertising. We have a modified experience for viewers using ad blockers

Wikia is not accessible if you've made further modifications. Remove the custom ad blocker rule(s) and the page will load as expected.