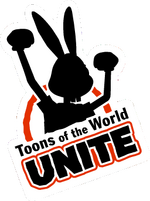 Hey toons! I can't believe it's been a while since Toontown closed. Ever since then, Toontown Wiki just sort of fell in the hole. But that's not the point of this blog entry.
I never looked forward to writing this blog entry. But honestly, this blog entry has been long overdue. I have gotten to the point where I cannot edit at least once a month. So, I am here to say one last thing...
Farewell my fellow toons. It's been a great run, having been here since July 2010. Almost four years into the wiki, but it's time I move on to other projects and also focus on what's really important to me. I may finish a few things before officially leaving, but this is my resignation post.
I'm going to leave this blog post short. There's not really much in mind that I can say right now. I have been at this for a long time since the start of this year. I am fairly certain that the other admins will follow along in the next few weeks. It's been an eventful time being here on Toontown Wiki. I've learned so much editing here, and I've learned many things and how to handle problems maturely. Everything that has happened in Toontown Wiki has greatly influenced me to become a better person. There's nothing left Toontown Wiki can teach me, so this is the time I say goodbye.
The state of the wiki now lies in the hands of the future admins.
Good luck to the future contributors of Toontown Wiki. Don't mess things up now. :)
Toons of the World, Unite!
Ad blocker interference detected!
Wikia is a free-to-use site that makes money from advertising. We have a modified experience for viewers using ad blockers

Wikia is not accessible if you've made further modifications. Remove the custom ad blocker rule(s) and the page will load as expected.