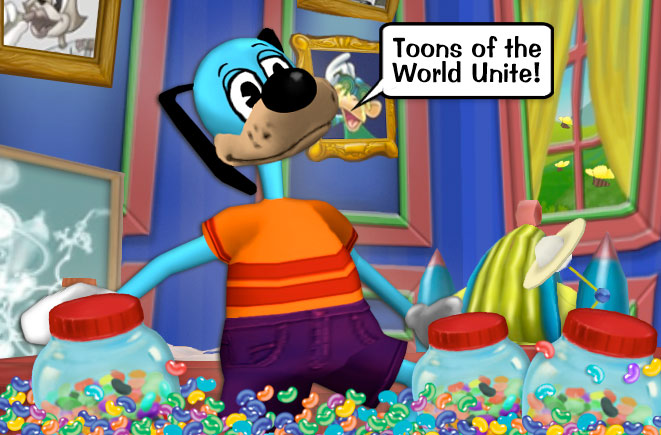 Attention, Toons:
Toontown Online will be closing on September 19, 2013. From now until September 19, 2013, ALL Toons can enjoy the full unlimited fun of Toontown – from shopping the Cattlelog, wearing accessories, battling the toughest Cogs, visiting all Neighborhoods, hosting Toon Parties, and more!
Thank you for making Toontown the biggest, wackiest, splattiest online world it can be. You are all Toontastic!
To learn more about Toontown Online closing click here, or visit our Toontown Closing FAQs for even further information.
Be sure to keep checking the news here in Toon HQ for up-Toon-the-minute news on all the Toontastic activities and kooky celebrations coming your way during Toontown's final weeks – like fireworks kicking off Double Jellybean MONTH!
Earn double beans in Toon Parties, Fishing, and Trolley Games from now until September 19th!
Expect even more wacky silliness in the coming weeks, and enjoy your free unlimited access to explore every loony Laff that Toontown has to offer!
Ad blocker interference detected!
Wikia is a free-to-use site that makes money from advertising. We have a modified experience for viewers using ad blockers

Wikia is not accessible if you've made further modifications. Remove the custom ad blocker rule(s) and the page will load as expected.