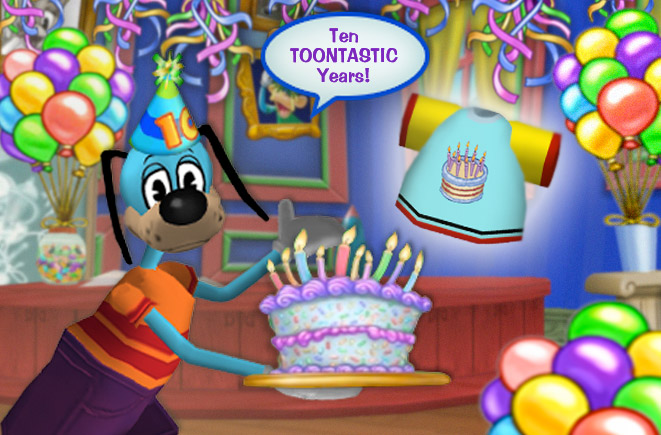 Toontown turns ten this Sunday, June 2nd!
To celebrate this Toontastic occasion, we invite ALL Toons to enjoy some cake on us... well, the cakecake's actually on you. On your shirt, that is!

Enter this special code in your Shticker Book to get your very own anniversary cake shirt delivered right to your Toon's mailbox:
TOONTASTIC
The party kicks off this Sunday with Toon Trooper jellybean madness! Troopers TEO, TYCHO, TABITHA, TRAVIS and TERRY will crash public Parties with loads of jellybean treats this Sunday, June 2 from 10am - 11am, and 1pm - 2pm, and again at 4pm - 5pm! (all times Pacific Time)
Host your own Toontastic anniversary party, and don't miss Clarabelle's all-new
Ten-tastic Party Hat
in the Cattlelog - the perfect party pairing for your anniversary shirt!
Wear your Toontown anniversary shirt with pride, Toons - a perfectly kooky kickoff to a sweet summer in Toontown. Toons of the World... UNITE!
Ad blocker interference detected!
Wikia is a free-to-use site that makes money from advertising. We have a modified experience for viewers using ad blockers

Wikia is not accessible if you've made further modifications. Remove the custom ad blocker rule(s) and the page will load as expected.