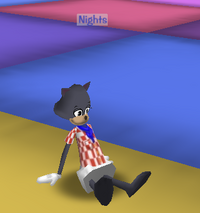 Hey toons! Well, I got bored, so I decided to download Toontown again. Anyways, since I'm no longer a member, please don't expect me to help you with buildings and such. I currently have 41 friends on Nights, so feel free to add me! I won't be on much; I'll primarily use it to grab images.
Obviously, I have two toons to use: Pixelate and Nights. If you spot them, say hi!
Later!
Ad blocker interference detected!
Wikia is a free-to-use site that makes money from advertising. We have a modified experience for viewers using ad blockers

Wikia is not accessible if you've made further modifications. Remove the custom ad blocker rule(s) and the page will load as expected.