This building is minor. This means that its shopkeeper, if any, does not offer any necessary ToonTasks to toons.
Unnamed Buildings are buildings that are on a street that have no name.
When it is taken over by cogs, the name will be: 'COGS Inc.' or 'COG Field Office'.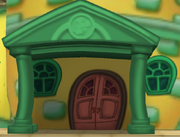 Trivia
Donald's Dock and Daisy Gardens are the only playgrounds with streets that don't have any empty and/or unnamed buildings.
If an unnamed building is turned into a field office, the toon in the cage will be N. Prisoned, Lemmy Owte, Prys O. Ner, Capt. Ured, Anna Cage, Dewin Tymme, T. Rapped, Little Helphere, Jimmy Thelock, Ima Cagedtoon, Gimmy Ahand, or R. E. Leaseme.
Ad blocker interference detected!
Wikia is a free-to-use site that makes money from advertising. We have a modified experience for viewers using ad blockers

Wikia is not accessible if you've made further modifications. Remove the custom ad blocker rule(s) and the page will load as expected.