The Brrrgh
Talk

0
2,030pages on
this wiki

The Brrrgh (abbreviated TB or BR) is a snowy neighborhood. This is where Pluto sniffs around the endless snowy fields. The Toontasks get harder here, and this is where you train for your final gag track as well. And as with almost all other neighborhoods, The Brrrgh contains a Toon HQ, Gag Shop, Pet Shop, Party Gate and Clothing Shop.
Lawbot HQ is located at the end of The Brrrgh's Polar Place.
The treasures in the playground are snowflakes that restore 12 laff points each.
Streets in The Brrrgh
Edit
The streets here include Sleet Street, Walrus Way and Polar Place. The Cogs on these three streets range from levels 5-9, unless an invasion occurs. Cog buildings (floors 3-5) are found here, and though rare sometimes a one or two story can be found here.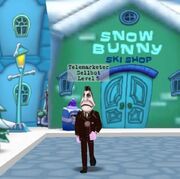 Below is a table of the streets and percentage of Cogs on those streets.
| | | | | |
| --- | --- | --- | --- | --- |
| | 10% | 20% | 30% | 40% |
| | 90% | 10% | 0% | 0% |
| | 5% | 85% | 5% | 5% |
The theme of The Brrrgh is a winter wonderland. The shapes of many items are based off of winter clothing and the names of the buildings are puns of winter sports, weather and similar things.
The Brrrgh is one of the only two neighborhoods in which the owner NPC only talks during Halloween, Winter Holiday, and April Toons' Week. (The other being Donald's Dock.)
This is the only place where you can catch the Frozen Fish due to the fact that the water is very cold and icy.
This is the only place in Toontown to have weather effects.
This is one of only two neighborhoods to not have the Disney characters' names in its title. The other being Toontown Central.
Before Toontown had Toontasks, the Toon HQ wasn't a building, but just a large igloo with two entrances and no doors.
Click here to see this article's gallery.