| | |
| --- | --- |
| | This article is about the NPC at "Heat - Get It While It's Hot!" building. For more uses of "Pete", see Pete. |
Sweaty Pete is a toon NPC and shopkeeper who owns Heat - Get It While It's Hot! on Sleet Street, The Brrrgh.
ToonTask
Main article: ToonTask:+2 laff/Sweaty Pete
Sweaty Pete will give toons a ToonTask for a reward of a +2 laff boost.
Toonography
Toonography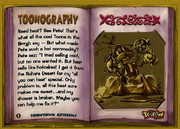 Need heat? See Pete! That's what all the cool Toons in the Brrrgh say -- But what made Pete such a hot commodity? Pete sez: 'I tried selling cold, but no one wanted it. But heat sells like hotcakes! I get it from the Sahara Desert for my 'all you can heat' special. Only problem is, all this heat sure makes me sweat...and my shower is broken. Maybe you can help me fix it?
Trivia
In 2004, the developers accidentally switched his gender to female. This was fixed several releases later. [Citation Needed »]
Ad blocker interference detected!
Wikia is a free-to-use site that makes money from advertising. We have a modified experience for viewers using ad blockers

Wikia is not accessible if you've made further modifications. Remove the custom ad blocker rule(s) and the page will load as expected.