| | |
| --- | --- |
| | This article is about the fish species. For more uses of "Starfish", see Starfish. |
Star Fish is a fish species normally found anywhere, the most common locations being Minnie's Melodyland and the toons' estates. Since it is fairly easy to find, it is not worth many jellybeans.
The All Star Fish is the rarest of all the Star Fish variety. It can usually be found at the Toon's Estate.
This fish has 5 varieties:
Star Fish
Five Star Fish
Rock Star Fish
Shining Star Fish
All Star Fish

Places to catch
Trading card
Fish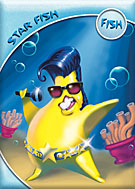 This Sea-lebrity is bigger then Squid Rock and MC Hammerhead put together. He's always putting the ocean in motion with songs like "My Foolish Carp", "Red Snails in the Sunset", and "You Don't Send Me Flounders", and now he's making a big splash in Toontown-put your fins together for the Star Fish!
Trivia
The Star Fish is a parody of singer/actor Elvis Presley, as it has the hair, a microphone, and says his catchphrase, "Thank you very much," when caught.
This is one of the only fish species to have a voice, the others are the Nurse Shark, Devil Ray, and Holey Mackerel.
When a toon completes a gag track or battles near a super toon-up trashcan, they hear the same sound as they would when catching this fish, only without the voice.
In other languages
| Language | Name |
| --- | --- |
| French | |
| Spanish | Pez estrella[1] |
| German | |
| Brazilian Portuguese | |
| Japanese | |
Gallery
Cite error: <ref> tags exist, but no <references/> tag was found
Ad blocker interference detected!
Wikia is a free-to-use site that makes money from advertising. We have a modified experience for viewers using ad blockers

Wikia is not accessible if you've made further modifications. Remove the custom ad blocker rule(s) and the page will load as expected.