Small toon
Talk

3
2,045pages on
this wiki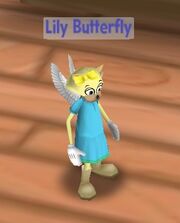 Small toon is a toon effect that allows a toon to temporarily turn small. Every part of their appearance will be miniature. The toon's jump will remain the same height. Toons will also walk faster with the small toon effect. However, in reality they are walking the same speed as a regular toon.
Toons are capable of doing this task starting in Toontown Central.
As a toon effect, it will be a "Just For Fun!" toontask.
Depending on the Toontasks the toon is working on, the time will vary for how long the effect will last. The time will increase as the toon progresses.