Safe

Level 5 Drop Gag
General information
Minimum Damage:
60
Maximum Damage:
60

Accuracy

:
Low
Organic boost:
66 Damage
Targets:
One Cog
Minimum carry capacity:
3
Maximum carry capacity:
7
Experience points needed for next gag:
6,000
Lineage
Preceded by:
Big Weight
Succeeded by:
Grand Piano

Miscellaneous
Media files
Hit:

Miss:

v • d • e
| | |
| --- | --- |
| | This article is about the gag. For more uses of "Safe", see Safe (CFO). |
Safe is the level five Drop gag. It succeeds the Big Weight but precedes the Grand Piano.
General
The Safe can be obtained once the toon earns a total of 2,000 Drop skill points. A toon can move up to the next level gag, the Grand Piano, after earning a total of 6,000 Drop skill points.
Unlike other gags, the first five Drop gags do not increase their damage throughout the course of Drop training. As such, the Safe can deal a maximum damage of "60". If grown on a tree and is organic, the maximum damage increases by six. It is capable of defeating level six cogs in one hit.
As with all Drop gags, except the Toontanic, the Safe targets one cog.
A toon can carry a maximum of three Safes at first. After earning the Grand Piano gag, a toon can carry a maximum of seven Safes.
Skill points
 
 

Previous level
Next level
2000
6000
The Drop track does not use the basic formula to determine the next increase in damage as the first five gags do not increase in damage.
Unlike other gag tracks, the Safe does not increase in damage over the course of Drop training.
Animation
The toon presses a button on a trigger box causing a safe to fall out of the sky.
The cog is crushed by the safe.
The cog will either be destroyed, or get up and return back to normal.
Trading card
Gag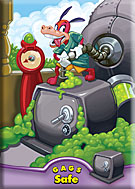 Better "safe" than sorry!

A message from the Toontown Gag Inventors: We will never rest until we have invented the prefect Gag. You might have thought that Uncle Scrooge's Super Strong Steel Safes, weighing in at eight hundred pounds, would be fine drop gags. But we had to ask: How can they be heavier? Our "concrete" solution: fill them with wet cement, and let it harden, for a safe that weighs over two tons and is positively pulsing with a plummeting power! It's "safe" for you, but dangerous for the Cogs!
Trivia
The texture on the safe is on the opposite side as it is in the GUI.
Since it is a Drop gag, it starts out with its maximum non-organic damage.
Toons use Safes to damage the Chief Financial Officer, although they look different from these.
In real life, a safe as large as a Toontown safe would be a lot heavier than an average Grand Piano.
According to the trading card, a Safe has the base accuracy of 50% chance to hit.
A safe can be found on the sidewalk of Silly Street in Toontown Central.
Ad blocker interference detected!
Wikia is a free-to-use site that makes money from advertising. We have a modified experience for viewers using ad blockers

Wikia is not accessible if you've made further modifications. Remove the custom ad blocker rule(s) and the page will load as expected.