A pumpkin head is a toon effect that can be earned by saying the special SpeedChat phrase "Trick Or Treat!". This is similar to the snowman heads.
Participating buildings
Pumpkin head differences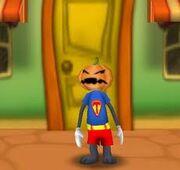 A toon with a "small" head will have a "fat" pumpkin head. Toons with big heads/ears will have a "tall" pumpkin head.
Trivia
If a toon says "Howdy" to Paula Behr on Polar Place, it will lose its pumpkin head. However, it can get it back by trick-or-treating to the same shops again.
Gallery
See also
Ad blocker interference detected!
Wikia is a free-to-use site that makes money from advertising. We have a modified experience for viewers using ad blockers

Wikia is not accessible if you've made further modifications. Remove the custom ad blocker rule(s) and the page will load as expected.