Pool Shark

Information
Varieties:
4 Fish Varieties
Lightest Weight:
8 lbs
Heaviest Weight:
16 lbs
General locations
Daisy Gardens
v • d • e
The Pool Shark is a fish species, found in Daisy Gardens. The Pool Shark family consists of 4 fish varieties:
Pool Shark
Kiddie Pool Shark
Swimming Pool Shark
Olympic Pool Shark
Places to Catch
Pool Shark - 9-11 lbs - Common - Daisy Gardens
Kiddie Pool Shark - 8-12 lbs - Rare - Daisy Gardens
Swimming Pool Shark - 8-12 lbs - Rare - Daisy Gardens
Olympic Pool Shark - 8-16 lbs - Very Rare - Daisy Gardens, Elm Street
Trading card
Fish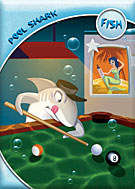 Some fish live in pools - this one lives for pool! This cool pool fool is either striped or solid, and thinks everyone should "get a cue". Be careful if you play him, though - he'll eat you alive!
Trivia
The varieties are associated to the "water" kind, such as the Swimming Pool Shark, rather t

han the game

Pool

(despite the trading card and the one in the game being shown playing pool).

The Pool Shark and the Nurse Shark are the only two shark species in Toontown.
In real life a pool shark is someone who is excessively good at pool and often tricks other people into playing against them for money.
In Melville's 2013 fishing tournament, if you were one of the winners, you earned a Pool Shark T-Shirt.
In other languages
| Language | Name |
| --- | --- |
| French | |
| Spanish | Tiburón charco[1] |
| German | |
| Brazilian Portuguese | |
| Japanese | |
Gallery

Cite error: <ref> tags exist, but no <references/> tag was found
Ad blocker interference detected!
Wikia is a free-to-use site that makes money from advertising. We have a modified experience for viewers using ad blockers

Wikia is not accessible if you've made further modifications. Remove the custom ad blocker rule(s) and the page will load as expected.