Nurse Shark

Information
Varieties:
3 Fish Varieties
Lightest Weight:
4 lbs
Heaviest Weight:
12 lbs
General locations
Minnie's Melodyland
v • d • e
The Nurse Shark is a fish species that is most commonly caught in Minnie's Melodyland. They are considered uncommon which sometimes makes a toon's search for them frustrating. The Nurse Shark family consists of 3 fish varieties:
Nurse Shark
Clara Nurse Shark
Florence Nurse Shark
Places to Catch
Nurse Shark - 4-12 lbs - Rare - Minnie's Melodyland
Clara Nurse Shark - 4-12 lbs - Very Rare - Baritone Boulevard, Minnie's Melodyland Playground
Florence Nurse Shark - 4-12 lbs - Very Rare - Tenor Terrace, Minnie's Melodyland Playground
Trading card
Fish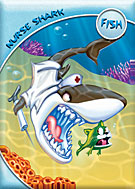 Use EXTREME CAUTION around the Nurse Shark! If the Nurse Shark says, "This won't hurt a bit," IT WILL! If the Nurse Shark says, "Open wide, like this," STAND BACK!! If the Nurse Shark says, "Let me check your blood pressure," drop your fishing pole and RUN AWAY!!!
Trivia
The Nurse Shark and the Pool Shark share a common species - the shark.
The trading card depicts it as a ferocious shark handling a needle at a Cat Fish.
In the Trolley Game Treasure Dive, the Nurse Shark doesn't hurt you, but on the trading card, it looks vicious.
It resembles that of a hospital nurse.
The trading card description describes it like a Spin Doctor, as it says "This won't hurt, a bit.", but it really does.
When caught, a voice resembling a hospital paging will play, saying "Dr. White, telephone please. Dr. White."

"Dr. White" is most likely referencing a Great White Shark.
This is one of the only fish species to have a voice, the others are the Star Fish, Devil Ray, and Holey Mackerel.
In other languages
| Language | Name |
| --- | --- |
| French | |
| Spanish | Tiburón monja[1] |
| German | |
| Brazilian Portuguese | |
| Japanese | |
Gallery

Cite error: <ref> tags exist, but no <references/> tag was found
Ad blocker interference detected!
Wikia is a free-to-use site that makes money from advertising. We have a modified experience for viewers using ad blockers

Wikia is not accessible if you've made further modifications. Remove the custom ad blocker rule(s) and the page will load as expected.