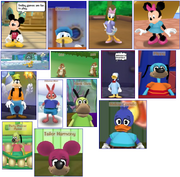 An NPC, an abbreviation for non-player character, is an automated character in the game. The NPCs are usually found in buildings, but others are located outside. Their names are shown in orange. Some of the most famous NPCs are the Disney characters. There are many others, including fishermen, tailors, gag shop clerks, and pet shop clerks.
Ad blocker interference detected!
Wikia is a free-to-use site that makes money from advertising. We have a modified experience for viewers using ad blockers

Wikia is not accessible if you've made further modifications. Remove the custom ad blocker rule(s) and the page will load as expected.