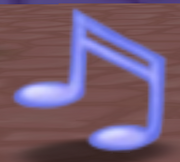 The Music note is a treasure that can be found in the Minnie's Melodyland playground and the CFO Battle.
In the CFO Battle, Music Notes are released by large yellow or orange helmet goons when they are disabled.
Laff Points Healed
Minnie's Melodyland - 10
CFO Battle - 10
Locations
There are a total of 19 locations where Music Notes can be collected.
Above Ground
Ground
To the right of the piano key platforms
To the left of the piano key platforms
Near the Tenor Terrace tunnel
(View from the pond facing the Baritone Boulevard tunnel)

To the left of the pond (Nearest to the Clothing Shop)
In front of the pond
To the right of the pond (Nearest to the Goofy's Gag Shop)

Near the Toon HQ (facing the Alto Avenue tunnel)
Platforms
Farthest left platform
Second farthest left platform
The middle platform
Second farthest right platform
Farthest right platform

Also farthest right platform