Matthew's Shirt is a shirt that can be purchased via Clarabelle's Cattlelog at the toon estate for 200 jellybeans. It was originally drawn out on paper by a boy named Matthew, who won a T-Shirt contest in 2004.
Trading card
Great moments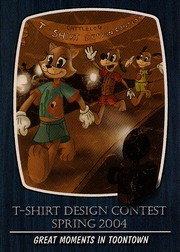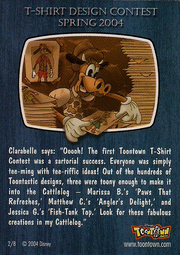 Clarabelle says: "Ooooh! The first Toontown T-Shirt Contest was a sartorial success. Everyone was simply tee-ming with tee-riffic ideas! Out of hundreds of Toontastic designs, three were toony enough to make it into the Cattlelog - Marissa B.'s 'Paws That Refreshes', Matthew C.'s 'Angler's Delight', and Jessica G.'s 'Fish-Tank Top'. Look for these fabulous creations in my Cattlelog."
Gallery
Ad blocker interference detected!
Wikia is a free-to-use site that makes money from advertising. We have a modified experience for viewers using ad blockers

Wikia is not accessible if you've made further modifications. Remove the custom ad blocker rule(s) and the page will load as expected.