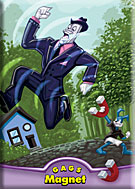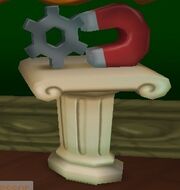 A Magnet is the second and fourth gags earned in the Lure gag track. It affects all cogs in battle. The first magnet, Small Magnet, lures up to two rounds. The other one lures up to three rounds. Unlike Cog Catchers, the magnets look different: the small one is red and the large one is blue.
Ad blocker interference detected!
Wikia is a free-to-use site that makes money from advertising. We have a modified experience for viewers using ad blockers

Wikia is not accessible if you've made further modifications. Remove the custom ad blocker rule(s) and the page will load as expected.