Lounge Lassard is a toon NPC and shopkeeper who owns Snow Ball Hall on Walrus Way, The Brrrgh.
ToonTask
Main article: ToonTask:+3 laff/Lounge Lassard
Lounge Lassard will give toons a ToonTask for a reward of +3 laff boost.
Trading card
Toonography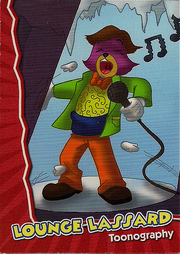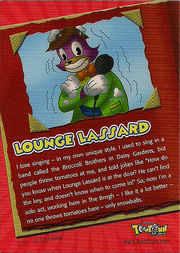 I love singing - in my own unique style. I used to sing in a band called the Broccoli Brothers in Daisy Gardens, but people threw tomatoes at me, and told jokes like 'How do you know when Lounge Lassard is at the door? He can't find the key and doesn't know when to come in!' So now I'm a solo act, working here in The Brrrgh - I like it a lot better - no one throws tomatoes here - only snowballs.
Trivia