"
Good thing you're here, I'm in a frenzy.
"

–Loan Shark
Loan Sharks are the seventh cog on the corporate ladder of Cashbots. Their levels range from seven to eleven. They are building-only cogs, unless there is an invasion. They are also found in Cashbot Headquarters Coin Mints, Dollar Mints, and Bullion Mints.
Locations
Starting Battle Phrases
"You've been on borrowed time."
"You're going to pay for this."
"It's time to collect on your loan."
"Your loan is now due."
"Time to pay up."
"Well, you asked for an advance and you've got it."
"It's pay back time."
"Can you lend me an ear?"
"Good thing you're here, I'm in a frenzy."
"Shall we have a quick bite?"
"Your loan is late."
"Lunch time!"
"I haven't had a bite all day."
Cog moves
Bite

Click to enlarge
Target:
One toon
Signature:
Yes
Level:
7
8
9
10
11
Damage:
10
11
13
15
16
Cog suit promotion
Trading card
Cog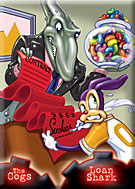 High Interest - in Defeating Toons
Dislikes: Prompt Payments, Toons
Likes: Lending, Devouring
Trivia
Name of origin
A loan shark is a person or body who offers loans at extremely high interest rates.
| Language | Name |
| --- | --- |
| French | Usurier[1] |
| Spanish | El prestamista despiadado[2] |
| German | Kredithai[3] |
| Brazilian Portuguese | Agiota |
| Japanese | シャークロン[4][5] |
Gallery
References
Ad blocker interference detected!
Wikia is a free-to-use site that makes money from advertising. We have a modified experience for viewers using ad blockers

Wikia is not accessible if you've made further modifications. Remove the custom ad blocker rule(s) and the page will load as expected.