Level 7 cogs are medium-leveled cogs. They have 72 health points (16 more than the previous level). They are most commonly found in the streets of The Brrrgh and Donald's Dreamland, but they can be found in other playgrounds if a field office is present. Players usually encounter them in medium level cog buildings as well as the Sellbot Headquarters and Cashbot Headquarters.
Cogs
Locations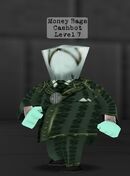 Ad blocker interference detected!
Wikia is a free-to-use site that makes money from advertising. We have a modified experience for viewers using ad blockers

Wikia is not accessible if you've made further modifications. Remove the custom ad blocker rule(s) and the page will load as expected.