The Grand Prix is an event that runs all day on Mondays and for a few hours on Silly Saturdays. During Grand Prix, toons can race in Goofy Speedway for three consecutive rounds and earn more tickets. However, the cost of tickets have been increased and cost more in harder courses.
Some trophies are only available during Grand Prix. It's best to compete during this time as Grand Prix is only available on Mondays and partially on Saturday (running for two hours before changing to a different activity during Silly Saturdays).
Once a year, on late May, there's a weekend where any toon (including F2P toons) can do the Grand Prix and win a racing outfit.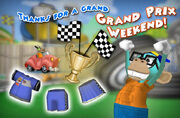 Toons need 500 to 1000 tickets to enter the Grand Prix.
Ad blocker interference detected!
Wikia is a free-to-use site that makes money from advertising. We have a modified experience for viewers using ad blockers

Wikia is not accessible if you've made further modifications. Remove the custom ad blocker rule(s) and the page will load as expected.