Not to be confused with Goofy's Gag Shop.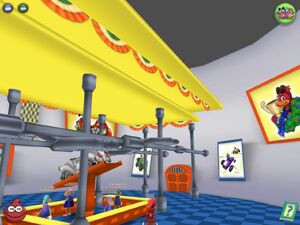 Goofy's Auto Shop
is a
building
in
Goofy Speedway
where
karts
and
accessories
can be purchased with
tickets
. The
NPC
toons
(grease monkeys) working here are
Graham Pree
,
Phil Errup
,
Anita Winn
, and
Ivona Race
.
Trivia
The NPC Toons in this room are all monkeys.
Graham Pree, Phil Errup, Anita Winn, and Ivona Race are puns from "Grand Prix", "Fill her up", "I need to win", and "I wanna race" respectively.
Gallery
Ad blocker interference detected!
Wikia is a free-to-use site that makes money from advertising. We have a modified experience for viewers using ad blockers

Wikia is not accessible if you've made further modifications. Remove the custom ad blocker rule(s) and the page will load as expected.