Frozen Fish

Information
Varieties:
1 Fish Variety
Lightest Weight:
8 lbs
Heaviest Weight:
12 lbs
General locations
The Brrrgh
v • d • e
The Frozen Fish is a fish species. Being frozen, they can ONLY be caught in The Brrrgh. The ice on their "backs" make this fish heavier than an ordinary fish. A Bamboo Rod is needed to catch this cold one. The Frozen Fish has no family, meaning it only has 1 variety.
Places to Catch
Frozen Fish - 8-12 lbs - Very Common - The Brrrgh
Trading card
Fish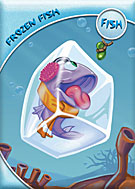 Want to catch cold? Try catching a frozen fish! This relative of the Brrr-Acuda might seem like a cold fish, but makes a solid pet that will melt your heart - you'll be smitten and frostbitten - so wear a mitten! The Frozen Fish loves ice blue jellybeans.
Trivia
They shake in their ice cubes, as if freezing cold.

They wear earmuffs and a scarf to keep them warm, however.
Despite the fact that the description states that they love ice blue jellybeans, in the trading card the jellybean used to lure the fish is green.
In other languages
| Language | Name |
| --- | --- |
| French | |
| Spanish | Pescado congelado[1] |
| German | |
| Brazilian Portuguese | |
| Japanese | |
Gallery

Cite error: <ref> tags exist, but no <references/> tag was found
Ad blocker interference detected!
Wikia is a free-to-use site that makes money from advertising. We have a modified experience for viewers using ad blockers

Wikia is not accessible if you've made further modifications. Remove the custom ad blocker rule(s) and the page will load as expected.