"
Things are looking down for you.
"

–Downsizer
The Downsizer is the fifth cog on the corporate ladder of the Bossbots. Their levels range from five to nine.
Locations
Starting Battle Phrases
"Why do you look so down?"
"You've just become expendable."
"You're going down!"
"Expect diminishing returns."
"Don't ask me to lay off."
"I might have to make a few cutbacks."
"Your options are shrinking."
"Things are looking down for you."
"Let's Downsize."
Cog moves
Cog suit promotion
Trading card
Cog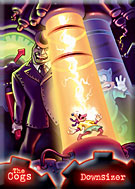 Small is Beautiful
Dislikes: Toons, Teamwork, Things That Grow
Likes: Ruthless Efficiency, Unemployment
Trivia
They are the lowest V2.0 cogs on the Corporate ladder.
Downsizers are the only cogs with three signature cog moves.
They have a similar appearance to the Bean Counter. The only differences being a Bean Counter is a Cashbot, has a different face when viewed closely, and has differently colored hands.
The Downsizer's trading card shows it operating a shrinking machine.
Downsizers are weak to trap doors because they always fall for things that go down.
The phrase "honey, I shrunk the Toon" is a reference to the 1989 movie Honey, I Shrunk the Kids.
Name of origin
A Downsizer is someone who reduces company employee numbers, or removes assets, in order to make the company stronger.
In other languages
| Language | Name |
| --- | --- |
| French | Touptisseur[1] |
| Spanish | Compactador[2] |
| German | Niedermacher[3] |
| Brazilian Portuguese | Facão |
| Japanese | リストラマン[4][5] |
Gallery
References
Ad blocker interference detected!
Wikia is a free-to-use site that makes money from advertising. We have a modified experience for viewers using ad blockers

Wikia is not accessible if you've made further modifications. Remove the custom ad blocker rule(s) and the page will load as expected.