Cutthroat Trout

Information
Varieties:
3 Fish Varieties
Lightest Weight:
2 lbs
Heaviest Weight:
10 lbs
General locations
Donald's Dock
v • d • e
The Cutthroat Trout is a fish species, commonly found in Donald's Dock. Cutthroat Trout can be caught with the Twig Rod. The Cutthroat Trout family consists of 3 fish varieties:
Cutthroat Trout
Captain Cutthroat Trout
Scurvy Cutthroat Trout
Places to Catch
Trivia
The word Cutthroat is used to describe pirates.
Scurvy is a gum disease that is often associated with pirates.
Trading card
Fish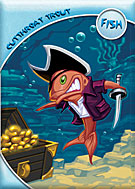 The Cutthroat Trout is the original "sword fish". He spends his days swimming through sunken ships searching for lost treasure. He'll go after jellybeans, but prefers gold doubloons.
Gallery
In other languages
| Language | Name |
| --- | --- |
| French | |
| Spanish | Pescadilla enroscada[1] |
| German | |
| Brazilian Portuguese | |
| Japanese | |

Cite error: <ref> tags exist, but no <references/> tag was found
Ad blocker interference detected!
Wikia is a free-to-use site that makes money from advertising. We have a modified experience for viewers using ad blockers

Wikia is not accessible if you've made further modifications. Remove the custom ad blocker rule(s) and the page will load as expected.