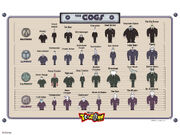 Not to be confused with Corporate Raider, a Bossbot cog.
The corporate ladder is the order of importance and strength a cog is positioned in. For example, on the corporate ladder of Bossbots, a Flunky is the lowest and the Chief Executive Officer is highest.
Corporate ladders are essential to keep order in the cog world. There are thirty-six spots on the corporate ladder, nine for each type of cog. The Corporate ladder ranges the Cogs to their damage point: The higher level the Cog is on the Corporate ladder, the more damage it can do (as well as the levels it has).
Sellbot Corporate Ladder
Cashbot Corporate Ladder
Lawbot Corporate Ladder
Bossbot Corporate Ladder
Ad blocker interference detected!
Wikia is a free-to-use site that makes money from advertising. We have a modified experience for viewers using ad blockers

Wikia is not accessible if you've made further modifications. Remove the custom ad blocker rule(s) and the page will load as expected.