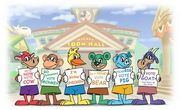 Chicken was an unreleased Toon Species. The species did not win the past two toon elections.
The motto for the Chicken in the election was "I'm pickin' chicken."
Trivia
Gyro Gearloose is the only known chicken Toon, but has never been featured in the game. He is mentioned in the old Toon

town launcher intro.
Ad blocker interference detected!
Wikia is a free-to-use site that makes money from advertising. We have a modified experience for viewers using ad blockers

Wikia is not accessible if you've made further modifications. Remove the custom ad blocker rule(s) and the page will load as expected.